VSpec includes a sophisticated architecture for controlling spectrometers, cameras, and other detectors. You can access all hardware features (and even control multiple instruments simultaneously) but the interface always remains easy to understand and use.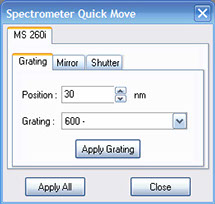 Many popular spectrometers are supported, for example DeltaNu and Acton monochromators and imaging spectrographs, including control of filter wheels, shutters, diverter mirrors, and motorized slits. Please contact us regarding support for other spectrometer brands.
Single Point Detectors, such as Acton PMTs, are fully supported, with features such as strip chart display, chopper control, and the ability to control multiple detectors simultaneously.